Installation
Aegis is distributed as a windows MSI installer. The requirements for installation are as follows:
Windows Vista, 7, 8, or 10
.NET runtime 4.5 (not installed by installer)
512 MB RAM
Aegis will not install or run in a virtual machine without a special license file
By default, the installer will choose a directory like the following for the installation path.
C:\Program Files (x86)\Automatak\Aegis Fuzzer

The executables are installed in the bin sub-directory of this folder. After a successful installation you should be able to run the AegisStudio link created in your start menu's program files All Programs >> Automatak >> Aegis Fuzzer >> AegisStudio.
If you have never installed a license, or your license is no longer invalid, you should see the licensing splash screen: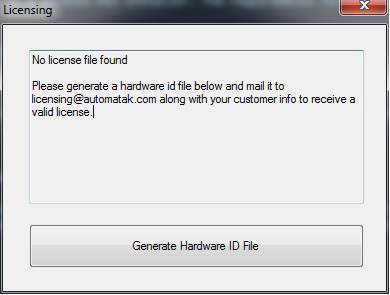 Licensing
Aegis is distributed and licensed under a subscription model. Per-seat licenses are bound to particular machines via a combination of hardware attributes. To license your Aegis installation, follow these steps:
Install Aegis and run AegisStudio
When the license splash screen appears, generate a hardware ID file (hid) and save it somewhere.
Email the hardware ID to licensing@automatak.com along with your customer info.
Place the license file in the reply in the bin sub-directory of your Aegis installation.
Your Aegis installation will now work for the term of your subscription. You will receive a warning 2 weeks prior to the expiration of your subscription to get a new license file.
Note: Both the Studio and the Console runners use the same licensing mechanism.